Michael Thomas Burgess, after a two and a half year battle with renal cancer, passed away at home surrounded by his wife Colette, sons Nathan and John, daughter Rachel, parents Milt and Nila, brothers Mark and Craig, sister Lynnette, niece Jessica and nephew Ethan at 4:21pm Saturday April 2nd, 2016 . Born April 21, 1959 he was just shy of his 57th birthday.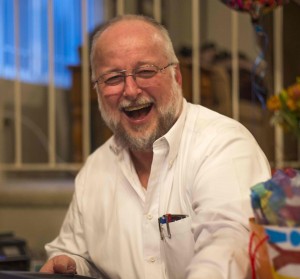 Michael grew up in Missoula, Montana, fishing, skiing and backpacking. He attended Rattlesnake grade school and Hellgate high school. In 1974, he moved with his family to Tucson, Arizona where he graduated from Sahuaro High School in 1977. He joined the Order of Demolay, ran cross-country, and played basketball. He rebuilt his first car, a 1951 Chevy. Michael attended classes at the University of Arizona for one year, but left in 1978 to move to San Diego where he worked in the laborers union for University Mechanical and Engineering Contractors.
With shovel in hand on a hot and humid day, at the new Wells Fargo high rise in San Diego, Michael was leveling the bottom of a six foot deep trench. Looking up he saw the UMEC project engineer in a starched white shirt and hardhat peering down into the trench. At that point, Michael decided to become an Engineer. He started attending Palomar Community College and on the advice of a math instructor, decided to enroll at Cal Poly San Luis Obispo where he achieved a Bachelor of Science degree in Mechanical Engineering and met the love of his life and wife of 31 and a half years, Colette Kendall Burgess.
After college, Michael and Colette moved to Indiana where he went to work for the Natkin Company, a national mechanical contractor and then to Arizona (Mesa, Tucson and Tempe) to work for University Mechanical of Arizona, Inc. and then to University Mechanical and Engineering Contractors, Inc.in the Los Angles Division. He left there for Western Air and Refrigeration and then was offered a position with Tierra Mechanical, Inc. in San Diego.
In 1992, he joined his father Milton Burgess as principal engineer for Burgess Group, Inc. which he eventually acquired from Milt to become President in 1999. In 2011, Michael joined the Xpera Group in San Diego to become Vice President where he applied his skills as a licensed Professional Engineer in five states.   He was LEED certified (Leadership in Energy and Environmental Design) and a Commissioning Process Management Professional (CPMP.)
For the American Society of Heating, Refrigerating, and Air-Conditioning Engineers (ASHRAE), he rose to Region X Director and Regional Chair and served on the Regional Executive Committee in Research Promotion and was most recently a member of the Technology Council and the Certification Committee of the Publishing and Education Council.
He loved family first, then hunting, fishing and golf. A Life Scout himself, Michael supported both of his sons in achieving Eagle rank. He treasured his grandson Kayden, his daughter Rachel's son.
A Celebration of Life and following luncheon will be held at the Green Valley Church at 12395 World Trade Dr, San Diego, CA 92128 on April 16 at 11am.